A drawer tool cabinet, often referred to as a tool chest or tool storage cabinet, is a piece of furniture designed to provide organized storage for tools, equipment, and other items commonly used in workshops, garages, and industrial settings. These cabinets are designed to keep tools accessible, secure, and well-organized, making them essential for maintaining an efficient work environment.
The key features and components typically found in a drawer tool cabinet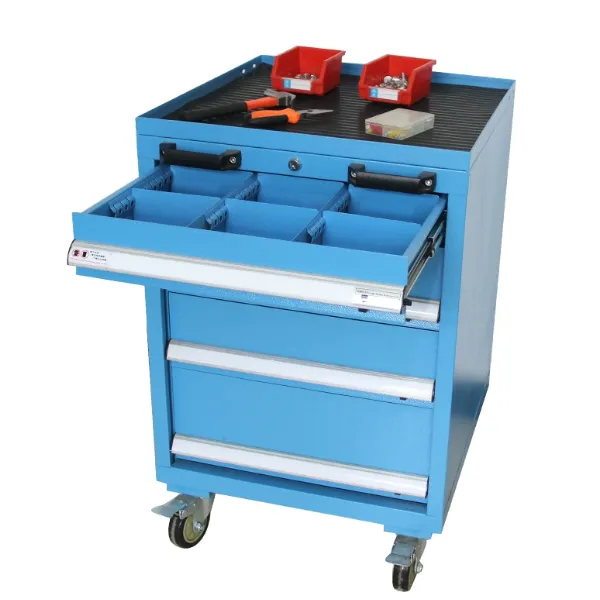 1. Cabinet Structure: A drawer tool cabinet is usually made from sturdy materials like steel or aluminum. It consists of a durable frame that houses multiple drawers of varying sizes.
2. Drawers: The primary feature of a tool cabinet is its drawers, which provide compartments for storing tools and other items. Drawers come in various sizes to accommodate different types of tools and equipment.
3. Drawer Slides: Each drawer is equipped with drawer slides or glides that allow them to slide in and out smoothly. Quality drawer slides ensure ease of use and durability.
4. Locking Mechanism: Many tool cabinets come with a locking mechanism that secures the drawers to prevent unauthorized access. This adds security to valuable tools and equipment stored within.
5. Handles: Handles are often attached to the front of each drawer, making it easier to open and close them.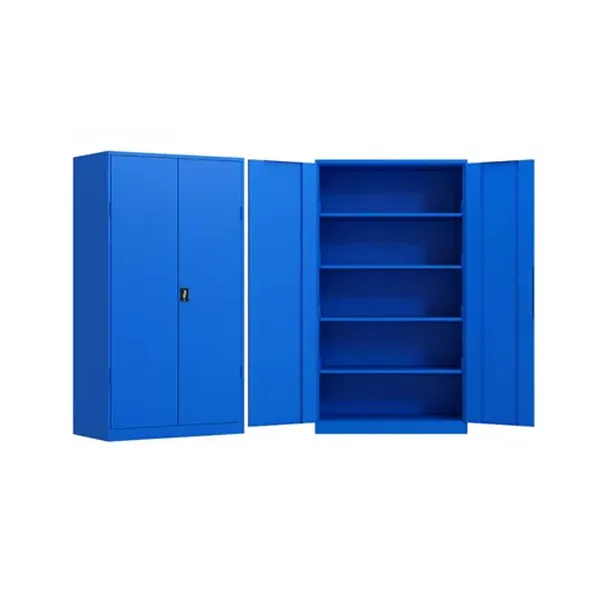 6. Casters: Some tool cabinets are equipped with casters or wheels to allow for easy mobility. This is especially useful if the cabinet needs to be moved around a workshop or garage.
7. Top Surface: The top of the tool cabinet often serves as an additional workspace. Some cabinets have a flat top that can be used for various tasks, and some even have a built-in workbench surface.
8. Tool Organization: Inside the drawers, organizers such as foam inserts, dividers, and trays can help keep tools neatly arranged and prevent them from shifting during movement.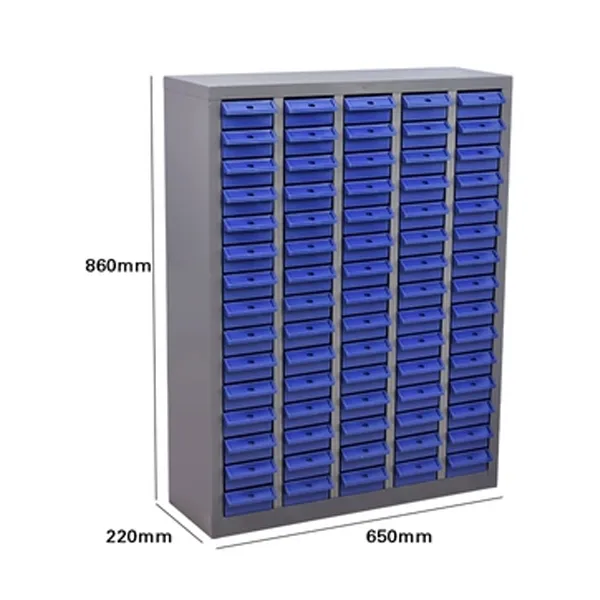 9. Different Drawer Heights: Tool cabinets typically have drawers of different heights to accommodate various tool sizes, from small hand tools to larger power tools.
10. Labeling or Identification: Some cabinets offer labeling options, such as drawer labels or clear windows, which help users quickly identify the contents of each drawer.
11. Additional Features: Depending on the brand and model, tool cabinets may include additional features like power outlets, USB ports, built-in lighting, and more.
12. Size and Configuration: Tool cabinets come in various sizes and configurations, from compact options with a few drawers to larger cabinets with multiple layers of drawers.
13. Durability: The durability of a tool cabinet is essential, as it needs to withstand the rigors of a workshop environment. Cabinets made from high-quality materials and strong construction techniques are preferable.
Tool cabinets are available in a range of styles and designs to suit different preferences and workspaces. When choosing a drawer tool cabinet, consider the types of tools you need to store, the available space, the level of security required, and any additional features that would enhance your workflow.